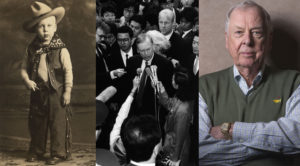 T.Boone Pickens, legendary energy executive and one of America's best-known entrepreneurs, passed away on September 11, 2019.
Pickens, born May 22, 1928, in Holdenville, a small town in eastern Oklahoma, spent his adult years in Texas. The long-time Dallas resident, who had battled back from a series of strokes and further head injuries sustained in a 2017 fall, died of natural causes surrounded by friends and family, according to spokesman Jay Rosser.
In 1957, Pickens founded what later became Mesa Petroleum, one of the nation's premiere independent natural gas and oil companies. During his career, Pickens' face appeared regularly on virtually every significant business publication in America. He put a spotlight on the rights of the true owners of American businesses — its shareholders. He pounded on the doors of Japanese boardrooms, demanding that American investors have the same access to Japan and other foreign markets as foreign investors have in the United States.
In 1996, upon leaving Mesa Petroleum, at age 68, Pickens embarked on an even more successful career by forming an energy-focused investment firm, BP Capital, often one of America's most successful hedge funds primarily focused on oil and gas commodities and energy-dependent equities.
Throughout his career, Pickens took to heart a lesson his father imparted upon him during college. When Pickens was not making sufficient progress toward a degree to satisfy his parents, his father told him: "A fool with a plan can outsmart a genius without one every time. We don't see you have a plan." The advice took: He quickly developed an aggressive plan to pursue a geology degree, which he earned. And at every challenging step in his business success thereafter, Pickens was sure he had a plan.
In December 2017, that plan called for closing his Dallas-based hedge funds and moving toward a family office structure. His decades-long presence in the industry lives on, however. BP Capital Fund Advisors' TriLine (without Pickens' management involvement) introduced a spin-off fund, the NYSE Pickens Oil Response ETF, in February 2018. Under the ticker BOON, the index tracks industry factors shaped by the decades of experience and energy thought leadership of Pickens and his team.
Never shy about expressing his closely held beliefs even when they bucked the status quo, in July 2008, Boone launched a self-funded, $100 million, grassroots campaign aimed at reducing America's crippling dependence on OPEC oil. In television ads, on his Pickens Plan website, and in personal appearances, he spelled out how our dependence on OPEC oil is an addiction that threatens the U.S. economy, environment and national security.
"He was just an old country boy from Holdenville, Oklahoma, but he could think his way around any Noble Prize winner," said Burns Hargis, OSU president since 2008. "Boone was a legend, a change agent, a life force that rarely comes along."
His 2008 New York Times Best Seller (the second of his career), The First Billion is the Hardest, also detailed what this country must do to win back its energy independence.
While Pickens preferred personal contact in his dealings, he was always open to change, and grew to "understand the power of social media, how it helped me build a 3.5-million-person (Pickens Plan) army." Twitter ranks a good-humored May 2012 exchange between Pickens and the rapper Drake among the best in its history; it drove home a significant social media lesson for Pickens — "It's one of the only ways that I would ever find myself in a dialogue with a rapper like Drake," he noted at the time.
In 2017, Forbes magazine named him one of the 100 "Greatest Living Business Minds" in its 100th anniversary issue.
"Boone is one of those swashbucklers out of our history — a great, dynamic person who is a pioneer in multiple areas," former Oklahoma senator Tom Coburn said. "He was a visionary. There are not many of those any more. He was probably little influenced by power and money."
His so-called Boone-isms became a staple of his personality (see www.boonepickens.com). A few of his most quoted sayings include:
"Be willing to make decisions. That's the most important quality in a good leader. Don't fall victim to what I call the "ready-aim-aim-aim-aim" syndrome. You must be willing to fire."
"Work eight hours and sleep eight hours, and make sure that they are not the same eight hours."
"If you're on the right side of the issue, just keep driving until you hear glass breaking. Don't quit."
"When you are hunting elephants, don't get distracted chasing rabbits."
In 2010, when fellow billionaires Warren Buffett and Bill Gates went public with their "Giving Pledge," an invitation to "the wealthiest individuals and families in the world to commit to giving the majority of their wealth to philanthropy," Pickens was already there.
Generous with his wealth, Pickens, a long-running member of the Forbes 400 "Rich List," contributed to a wide range of philanthropic initiatives (www.tboonepickensfoundation.org), with his philanthropic impact reaching almost $2 billion through innovative matching initiatives. He formed the T. Boone Pickens Foundation in late 2006 to further his support of health and medical research and services, at-risk youth, and educational, entrepreneurial, political and athletic initiatives.
"Nobody has done what Boone did," said Steve Taylor, retired Chief Justice of the Oklahoma Supreme Court. "He wanted to enjoy the fun of giving away money, and seeing what happened with it. Scholarships. Football stadiums. Engineering schools. Hospitals."
He was among the most generous collegiate philanthropists of all time, contributing more than $652 million to his alma mater, Oklahoma State University (almost evenly divided between academics and athletics, at the institution where the football stadium bears his name). The support for OSU prompted Texas A&M's 12th Man Magazine to include A&M's decision not to renew Pickens' $25-a-month basketball scholarship as one of the top 10 mistakes in Aggie history.
"He was the right guy at the right time to do something about our rusted-out relic of a stadium and give us the hope to win some football games," said Mike Holder, OSU athletic director since 2005 and Pickens close friend for years before that. "He set a good example and gave at an unprecedented level to change people's perceptions about Oklahoma State."
Other beneficiaries of his giving include University of Texas Southwestern Medical Center and the University of Texas MD Anderson Cancer Center (among other initiatives, both received $50 million gifts in 2007), the Center for BrainHealth at The University of Texas at Dallas, Scottish Rite Children's Hospital, the T. Boone Pickens Hospice and Palliative Care Center, the Wilmer Eye Institute at Johns Hopkins University, Big Brothers Big Sisters of North Texas, the Center for Missing and Exploited Children, the Fisher House Foundation, Happy Hill Farm, Jonathan's Place, Meals on Wheels, the World Cranial Foundation, The Senior Source, USO Dallas/Fort Worth, Special Olympics of Texas, and Jubilee Park, an inner-city Dallas community.
"I like making money. I like giving money away. Giving money is not as fun as making it, but it's a close second," Pickens liked to say.
Pickens received a host of awards and recognition during his career:

Financial World magazine named Pickens "CEO of the Decade" in the late 1980s. Oil and Gas Investor included Pickens with such luminaries as Henry Ford and John D. Rockefeller on its "100 Most Influential People of the Petroleum Century."
In 2003, Pickens was inducted into the Oklahoma Hall of Fame.
In 2005, Pickens was inducted into the Texas Business Hall of Fame.
In 2006, Horatio Alger Association of Distinguished Americans inducted Pickens into its ranks.
In 2008, he received the Distinguished American Award from the National Football Foundation and College Hall of Fame for his contributions to amateur football in the United States. He also was honored with the Woodrow Wilson International Center for Scholars of the Smithsonian Institution Award for Corporate Citizenship.
In 2009, Time 100 ranked Pickens in the top quarter of its world's 100 most influential people list. That same year, in recognition of his efforts and far-reaching philanthropy, the 43rd annual Texas Legislative Conference named him "Texan of the Year" and the prestigious Franklin Institute named Pickens its Bower Award for Business Leadership winner.
In 2010, the Congressional Medal of Honor Society presented Pickens with its Patriot Award. That year, the Oklahoma State Legislature declared May 13 "Boone Pickens Appreciation Day" in Oklahoma.
In 2011, the American Football Coaches Foundation named him its CEO Coach of the Year.
In 2012, he received the SEAL Legacy Award for a "lifetime of unwavering commitment to the Armed Forces."
In 2013, DCEO magazine named him its CEO of the Year.
In 2017, Forbes magazine named him among its 100 "Greatest Living Business Minds" to mark the magazine's 100th anniversary.
In 2018, the Maguire Energy Institute at SMU Cox School of Business awarded him with its Maguire Energy Institute Pioneer Award; D CEO magazine awarded him with its Oil and Gas Awards program's Lifetime Achievement Award; the Great Investors' Best Ideas Foundation honored him with its Edward W. "Rusty" Rose Award for his efforts to bring truth and transparency to public securities markets; and the Center for Security Policy presented him with its "Terry Elkes Sacred Honor Award," recognizing public-spirited leadership in the private sector and philanthropy.
In 1982, Augusta National Golf Club invited Pickens to join the exclusive club. Pickens had many memorable moments during the 100 times he figured he played there, but none rivaled April 18, 2007, when he hit a driver up the left fairway on #11 and followed up with a 7-wood onto the green. Upon closer scrutiny, his longtime caddie, Larry, informed him he had eagled the first leg of Amen Corner. At 78.
To add to the magic of the day, Pickens' friend, golf legend Arnold Palmer, had played Augusta earlier that day. After Pickens completed the course, he ran into Palmer and asked him if he had ever eagled #11. He had not. When Palmer told his friend that he had hit "two good shots," Pickens replied, "No, Arnold. I hit one good shot and one perfect shot." Pickens, figuring he probably wasn't going to top that day's performance, gave up the game shortly after that.
The Holdenville resident's entrepreneurial ambition manifested itself early in his life. As a teen, he methodically expanded his newspaper route sales by acquiring surrounding routes, one by one.
His father was in the oil business, and his mother ran the Office of Price Administration during World War II, rationing gasoline and other goods for four Oklahoma counties. Boone attributed much of his success to lessons learned from his mother and father.
As a youth, his family moved to Amarillo, Texas, where he attended high school. After one year at Texas A&M University, Pickens transferred to Oklahoma A&M (now Oklahoma State University), where he earned a degree in geology in 1951.
Pickens worked for Phillips Petroleum for three years before striking out on his own in 1954. With $2,500 of borrowed money, Pickens and two investors formed an oil and gas firm called Petroleum Exploration Inc. Later, he formed Altair Oil & Gas Co. to pursue oil and gas exploration opportunities in western Canada. Both were predecessor companies to Mesa Petroleum, which he took public in 1964. Pickens built Mesa into one of America's largest independent natural gas and oil companies. Mesa produced more than 3 trillion cubic feet of gas and 150 million barrels of oil from 1964 to 1996.
While expanding Mesa's reserve base through exploration, large discoveries were made in the North Sea, Gulf of Mexico, Canada and West Texas. Pickens found other ways to grow Mesa as well. In 1968, Pickens extended an offer to merge with the larger Hugoton Production Company, which had vast natural gas resources in southwest Kansas. The offer was declined, but Pickens successfully maneuvered to take over the company in 1969. Later, Pickens attempted a number of other such acquisitions. In the process, Pickens championed a new era of corporate accountability and is credited with making corporate managements more responsive to the interests of their shareholders. To further this, in 1986, Pickens founded the non-profit United Shareholders Association to help shareholders and inform them of corporate abuses.
"Pickens became one of the few businessmen in the 1980s recognizable to wide segments of America," The New York Times wrote in January 2018. "Pickens was an early advocate for shareholder rights and insisting that executives be compensated with stock. That line of thinking informed a new generation of shareholder activists, and remains gospel on Wall Street."
From its inception, the Pickens-led Mesa was at the forefront of change and innovation, and not just in business. Mesa's fitness program is an example. A longtime exercise enthusiast himself, Pickens long championed the benefits of physical fitness. Mesa's fitness program became a model for corporate America, and Mesa was the first company to be accredited by the Institute for Aerobics Research. "I don't want to grow old and feel bad, and I don't want my employees to, either," he often said.
Pickens is survived by five children — Deborah Pickens Stovall, Pam Pickens Grace, Michael Pickens, Tom Pickens and Liz Pickens Cordia — 11 grandchildren and an increasing number of great grandchildren.
The funeral service to honor his life and legacy is set for invited family, friends and dignitaries at 2 p.m. CDT on Thursday, September 19, at Highland Park United Methodist Church, 3300 Mockingbird Lane in Dallas, Texas.
The general public is invited and encouraged to view the services in Wesley Hall at the church. A live stream will be available at boonepickens.com.
A separate Celebration of Life event will occur at 3 p.m. Wednesday, September 25, in Gallagher-Iba Arena on the Oklahoma State University campus in Stillwater, Oklahoma, followed by burial on campus.
In lieu of flowers, memorials can be sent to the T. Boone Pickens Foundation, 8117 Preston Road, Suite 260W, Dallas, Texas 75225. Donations will support the many charitable endeavors Pickens embraced during his life.