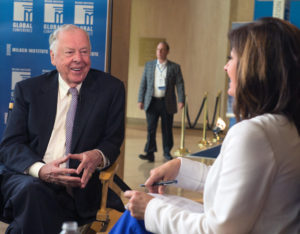 The breadth of T. Boone Pickens' career is impressive. He built one of the largest independent natural gas oil companies in the United States and flourished as an entrepreneur after leaving it, generating hundreds of billions of dollars in the process. Among his lengthy accolades, Time magazine has identified him one of it 100 most influential people, Financial World named him CEO of the Decade in 1989 and Oil and Gas Investor identified him as one of the "100 Most Influential People of the Petroleum Century."
"The thing you have to understand about Boone is that it's all about action," longtime associate Bobby Stillwell told Grant's Interest Rate Observer in 2004. "There's no sitting around."
Throughout his career, Pickens was afflicted with the inherent restlessness that drives most entrepreneurs. That restlessness manifested itself early in his life. While he was still a teen, the Holdenville, Oklahoma, native expanded his newspaper route sales by acquiring surrounding routes one by one.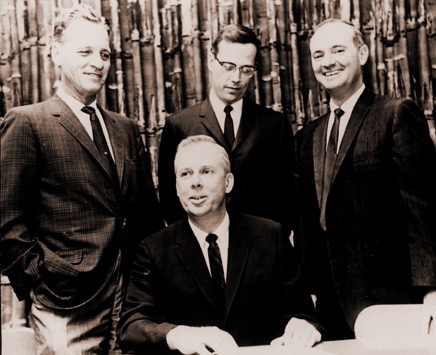 Listen: Boone Sets Out On His Own
Listen: The Birth of Mesa

Traditional corporate life chafed Pickens. The Oklahoma State University graduate left his first adult employer, Phillips Petroleum, and started what would become Mesa Petroleum with $2,500 and a healthy dose of moxie. He built that company into an independent powerhouse that challenged and changed the good-old-boy corporate culture in America.
During this time, his face appeared regularly on every significant business publication in America. He put a spotlight on the rights of the true owners of American businesses, its shareholders. He pounded on the doors of Japanese boardrooms, demanding that American investors have the same access to Japan and other foreign markets as foreign investors have in the United States. When at 68 he left the independent oil company he had nurtured for forty years, he reinvented himself, built an energy-focused investment firm, BP Capital, which became often one of America's most successful hedge funds primarily focused on oil and gas commodities and energy-dependent equities. In the process, Pickens made more money than he ever had before.
During the past few years, his uncanny on-the-mark forecasts on the price of oil made him the focus of major news programs and led CNBC to label him the "Oracle of Oil."
Pickens took to heart a lesson his father imparted upon him during college throughout his career. When Pickens was not making sufficient progress toward a degree to satisfy his parents, his father told him: "A fool with a plan can outsmart a genius without one every time. We don't see you have a plan." The advice took: He quickly developed a plan to pursue a geology degree, which he earned. And at every challenging step in his business success thereafter, Pickens was sure he had a plan.
In December 2017, that plan called for closing his Dallas-based hedge funds and moving toward a family office structure. His decades-long presence in the industry lives on, however. BP Capital Fund Advisors' TriLine (without Pickens' management involvement) introduced a spin-off fund, the NYSE Pickens Oil Response ETF, in February 2018. Under the ticker BOON, the index tracks industry factors shaped by the decades of experience and energy thought leadership of Pickens and his team.
Never shy about expressing his closely held beliefs even when they bucked the status quo, in July 2008 Boone launched a self-funded, $100 million, grass-roots campaign aimed at reducing this country's crippling dependence on imported oil. In television ads, on his Pickens Plan website, and in personal appearances, he spelled out how our dependence on OPEC oil was an addiction that threatened the U.S. economy, environment and national security, and ties its hands as a nation.
While Pickens preferred personal contact in his dealings — "I've never been a big fan of emails. I prefer to pick up the phone and work things out" — he always was open to change, and grew to "understand the power of social media, how it helped me build a 1.7-million-person (Pickens Plan) army dedicated to solving America's energy challenges." (A good-humored exchange between Pickens and the rapper Drake that became the talk of the Twitter universe in May 2012 drove home the social media lesson for Pickens — "it's one of the only ways that I would ever find myself in a dialogue with a rapper like Drake," he noted at the time.)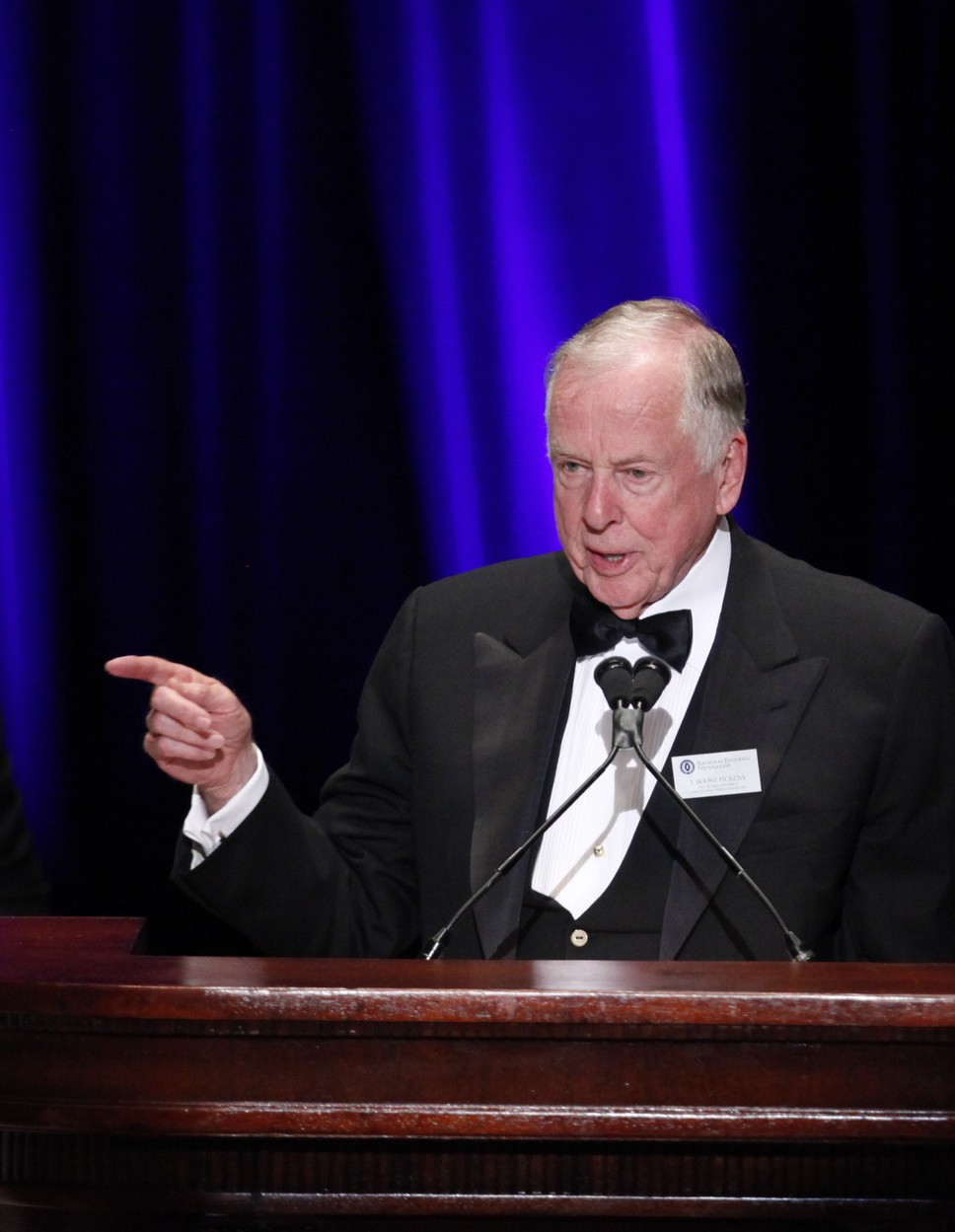 Listen:
Boone Reflects on His Life
Listen:
Boone's Advice for Youth

During the span of his career, Pickens made hundreds of billions of dollars — for others as well as himself — and he wasn't timid about spreading it around. "I like making money. I like giving it away," he often said. The breadth of his philanthropy — more than $1 billion — includes medical research, athletics, and academic projects. In 2006, he established the T. Boone Pickens Foundation with a $175 million endowment. The Chronicle of Philanthropy regularly listed him among the top U.S. philanthropists. His Foundation is focused on improving lives through grants supporting educational programs, health and medical research and services, athletics and corporate wellness, the entrepreneurial process, at-risk youth, and conservation and wildlife initiatives.
"Entrepreneurs search for — and create — value," Pickens wrote in Boone Pickens: the Luckiest Guy in the World. "That underlying value is what my life is all about — whether the focus is the energy business or some other endeavor. Today, we enjoy a robust economy and significant shareholders' say in the companies they own. Takeovers, solicited or otherwise, have become an accepted business practice; today, the Business Roundtable does not attack the acquirers, win or lose. Countless gambles played a part in bringing that combination together. Our role in the journey was worth the risks."
His life, stunning achievements and stinging losses alike, was chock full of lessons, most of which he readily shared over the years. His impact on American culture reflected his many interests and passions, including his unyielding belief in the entrepreneurial spirit, his leadership in corporate fitness, the need for alternative fuel development, and his prudent stewardship of American lands. Pickens, a proud alum of OSU (at the time he graduated, it was operating as Oklahoma A&M), donated the gist of his professional papers to his alma mater.