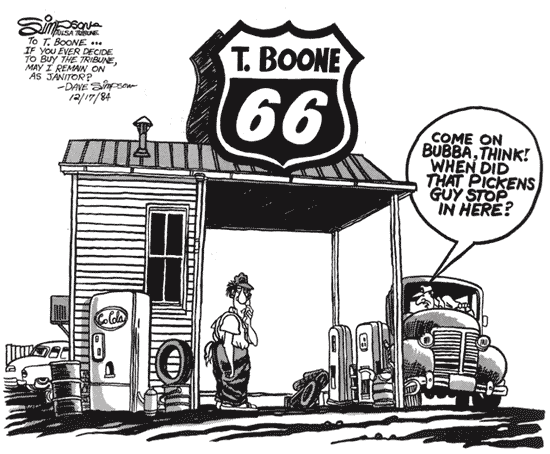 Listen: The Decision to Acquire
Listen: Talking About the Deals

During the 1980s, T. Boone Pickens and his young band of hungry Mesa Petroleum managers grabbed hold of a monster and shook it like it'd never been jostled before. They rode that monster, and got thrown some, but Big Oil was never the same again.
Beginning in the late 1950s, young geologist Pickens had spent most of his time trying to convince people what he had to say made economic sense. Fifteen years later, the stakes started getting a lot bigger.
Between 1973 and 1981, Mesa grew into one of the largest independent oil companies in the world, with assets of more than $2 billion. Convinced that the oil industry had effectively turned its back on its shareholders, Pickens first espoused widespread corporate restructuring in 1982. He later fought heroic campaigns against the no-risk mentality of the professional managers who controlled American business in the wake of World War II. He had identified undervalued assets in the public marketplace and was trying to shake them loose for shareholders. Immediately, he was brandished a radical, against traditional values, and fooling around with stuff that he had no business talking about. At the time, the concept of restructuring was common in bankruptcy proceedings, but it was unheard of in corporate America.
Listen:
The Greenmail Accusations
After a few small successes, the tiny Mesa team launched a series of high-risk game plans against behemoths Gulf Oil, Phillips Petroleum, and Unocal. Pickens noted that the high-profile media coverage and defensive boardroom propaganda campaigns often misconstrued his actions. The overriding mission wasn't to take these giants over but to make money for their shareholders, which included Mesa stockholders. A stunning victory against Gulf in 1984 raised the stakes and the industry's defenses.
The Gulf tender offer was the third of six big plays his team attempted between 1982 and 1987. Although he didn't fell Goliath, Gulf ran into a deal with Chevron, and Mesa shareholders netted $404 million for their Gulf stake (Gulf offered Pickens greenmail to go away but he held out for a resolution that offered the same share price for all shareholders).
The Business Roundtable, chief executives from two hundred of the largest and most powerful companies in the country, took notice, with great trepidation.
By the time he graced what would become an infamous Time magazine holding playing cards embossed with oil derricks behind a big blue stack of poker chip — under the headline. "The Takeover Game: Corporate Raider T. Boone Pickens" — the Roundtable, feeling that Pickens was a threat to the status quo, launched a massive attack on Pickens' reputation, painting him as marauding threat to business stability, furiously digging trenches to protect its antiquated business practices, and painting a bull's eye on Pickens' back. In retrospect, Pickens mused that he should have quit after Gulf.
In 1986, Pickens founded the United Shareholders Association (USA), which tackled an assortment of corporate governance issues deemed important to shareholders. USA gathered substantial grassroots support, counting 65,000 members at its zenith. During its eight-year existence, it generated mounds of shareholder-rights advocacy correspondence. It produced an annual "Target 50" list of non-responsive companies to shareholders and a "Corporate 1000 Ratings," company assessments based on criteria for bottom-line performance, executive compensation, and recognition of shareholder rights. After nearly two years of periodic hearings and debate, in July 1988 the SEC voted 4-1 to approve a one-share, one-vote rule, a primary USA mission.
Pickens' first arguments were theoretical. The empirical evidence since has proved him right. American businesses entered the 1990s more competitive than at any time in the past 20 years, and the American people now own corporate America. And more than a few average Americans are a lot wealthier because of the pressure that was put on management.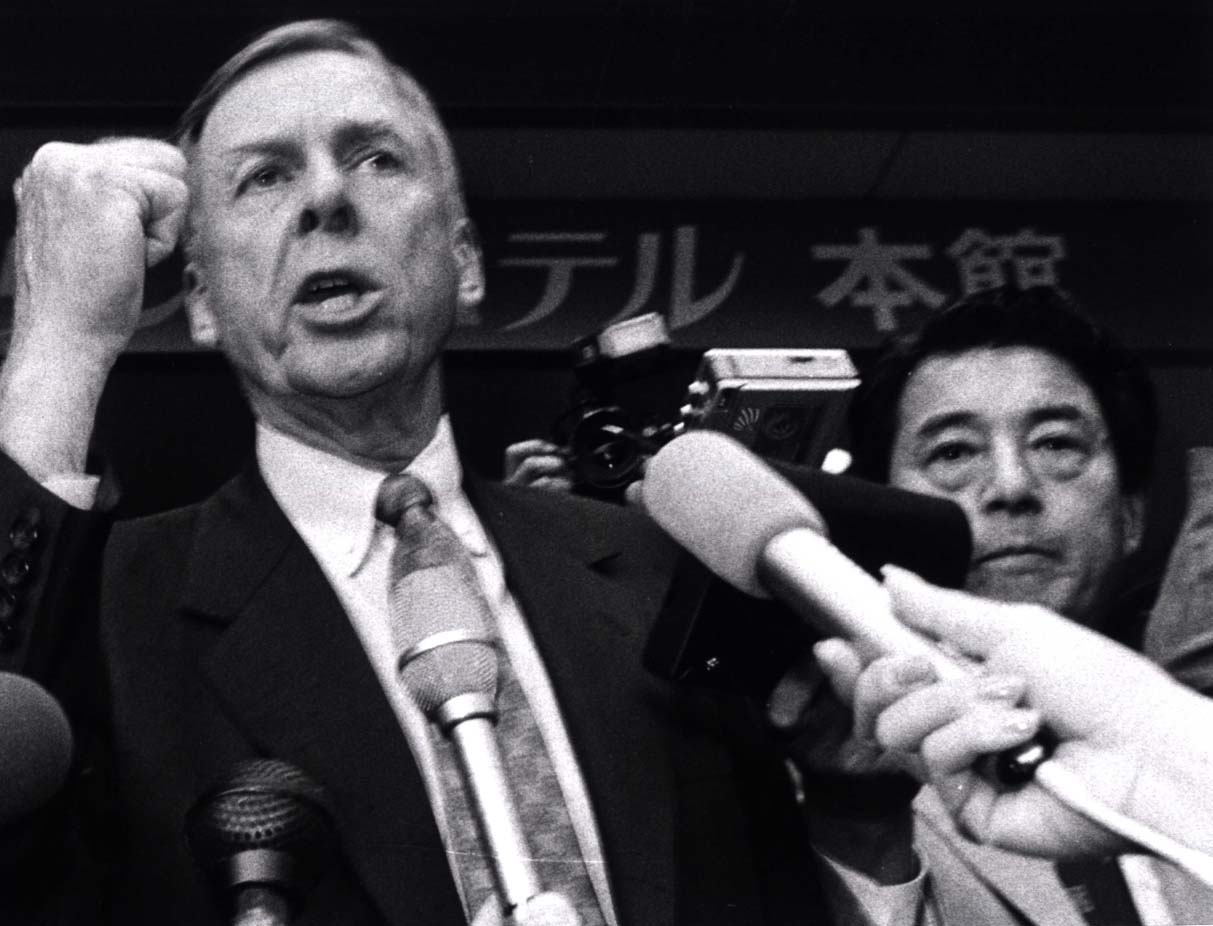 In late 1988, a contingent of Japanese businessmen led by Kitaro Watanabe enlisted Pickens' help in a struggle against Koito Manufacturing Co., a main subcontractor of Toyota Motor Co. Pickens was soon embroiled in a strange, two-and-a-half-year odyssey that became the focus of intense international scrutiny.
In the process, both Pickens and the rest of the American investment community learned that a Japanese corporate organization revolved around a keiretsu. A keiretsu, which could be identified as a cartel, operating globally, integrated both vertically and horizontally, and organized around its own trading companies and banks. Each major keiretsu was capable of controlling nearly every step of the economic chain in a variety of industrial, resource, and service sectors, and effectively could shut off any invasion from the outside world.
The ensuing struggle between Pickens and Koito sometimes resembled a circus, other times a soap opera.
"The Japanese aren't upset at the notion of someone buying up large chunks of stock in hopes of later being bought out at profit; they do it themselves," The Chicago Tribune declared at the time. "They're in a dither because this is the first major 'hostile' investment by a foreigner. In other words, this good ol' boy isn't one of Tokyo's good ol' boys."
Pickens testified many times before Congress about his Japanese experience and the uneven corporate and trade ground between the United States and Japan. Although the situation became intractable and Pickens ended up selling his stake in Koito, the high-profile episode forever changed the playing field. Slowly, the idea that the shareholders in a Japanese corporation no longer finish dead last in the eyes of management gained ground. While major U.S.–Japan investment and trade inequities remain, Pickens took a crowbar to a long-closed door and let a bright light shine into the room.
During a 2007 speech at the Benjamin N. Cardozo School of Law in New York, Pickens called for new guidelines that would allow shareholders to nominate corporate directors, have those candidates vetted by an independent consultant, and then vote on a broad list of names. (Under existing rules, shareholders could only challenge a board's nominees by proposing a separate slate of candidates and mailing out ballots to investors.)
Of course, the shareholder campaigns attracted the most attention for Pickens, but his history of efficiently run enterprises, injecting youthful leadership into his company and a pioneering corporate fitness program, all had profound impacts on Corporate America.
In 2017, Forbes magazine named Pickens one of the 100 "Greatest Living Business Minds" in its 100th anniversary issue.