In a few weeks – May 22 to be exact – I will celebrate my 91st birthday. I'm a lucky man, but I recognize a lot has changed for me in the past few decades.
Twenty years ago, for example, I worked out with a trainer every morning. The goal was to be physically fit and, yes, help the body live as long as I could possibly push the envelope. But a stroke and a head injury later, I realize I could have been strengthening my brain capacity as well. Now recovering slowly, I'm all on that.
Supporting brain health research has been both a philanthropic mission and a physiological experience for me lately. In addition to donating to The University of Texas at Dallas' Center for BrainHealth for educational and research initiatives, I've also been a participant in research projects.
I'm one of 350 individuals, whose ages ranged from 20 to 89, that engaged in a series of tests. Researchers monitored my brain activity compared to other population segments – most of whom were younger than me. Participating in these tests has been one of the most eye-opening experiences of my life. I've learned a lot about why brain health is such an important field, and ultimately, I have realized it is a field that needs more attention and funding.
The vision of The BrainHealth Project is to empower individuals to take charge of their own brain, as well as encourage a new field of research that powers brain fitness and performance by discovering markers of health, drivers of performance, preventive care protocols, and interventions for brain health recovery. In short, this project aims to unlock the brain's full potential.
There's no doubt that I wouldn't have been successful in life without good overall health. While some of that is attributed to inheriting good genes, it's also a function of incorporating healthy habits into my daily schedule, such as regular exercise. I have always encouraged my employees to integrate physical fitness into their lives, and I practice what I preach with my own routine. Now, I'm taking health and fitness to the next level by doing what I can to support better brain fitness for even more people. As The BrainHealth Project preaches, it's important to push the boundaries of the average, healthy brain to become a more athletic version of itself.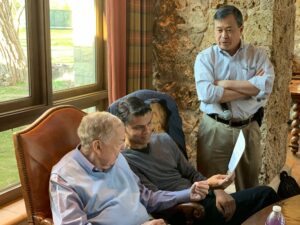 The program at UT Dallas gets support from change-makers, thought leaders and philanthropists from across the country. Since joining the project, I have had the pleasure of gathering many of these people at my Mesa Vista Ranch to talk strategy and 'brainstorm' ways to build support for the Center for BrainHealth and catapult The BrainHealth Project into the national conversation about health.
Co-founder and managing director of Celsius Capital, Carlos Bhola, had this to say about our most recent gathering at the ranch: "The couple of days I spent at the Mesa Vista ranch with Mr. Pickens, and the extraordinary group of people brought together by the leaders of The BrainHealth Project, were eye-opening and mind expanding. Our discussions underscored that the societal costs of poor brain fitness are measured in trillions of dollars – our GDP, national security and global competitiveness all hang in the balance."
Liz Feld, president of the Suzanne Wright Foundation and former president of Autism Speaks, was also at the ranch for this special weekend. The brain health cause is important to her because, in her words, "Alzheimer's, ALS, and autism are among our most vexing medical challenges, yet we have failed to leverage the 21st century tools and technologies available to us to advance treatments. We need to turn scientific research into products that can improve and save lives. We also need to leverage scientific discovery to build resilience that promotes prevention, as well as focusing on cognitive strengths post-diagnosis to enhance quality of life."
One of the ways in which Liz incorporates better brain health into her daily life is through meditation. "It has changed my life. I now understand how the simple act of being aware of my own breathing can be the best medicine in the world," she said.
Liz also understands the power of getting a group like this together in a setting such as Mesa Vista Ranch: "People came from all around the country to do nothing but focus on how we can grow our network of support for this audacious project. The ranch provided an open and safe space to think out loud, drill down on the tough questions, set goals, and commit to action. Thanks to Boone Pickens, it was the perfect formula: natural beauty, no phones, great food, fresh air, a committed team, and clear marching orders: Let's get this done!"
I really enjoy these weekends at the ranch with incredible groups of people like these. We always depart with a renewed commitment to this important cause. Brain health is an issue that needs more attention because it affects every one of our lives in so many ways – both personally and professionally. I encourage you to learn more at TheBrainHealthProject.org.
Lots of people take note of the fact I didn't become a billionaire until after I turned 70. Imagine what I might have accomplished had I cleared my mind and focused on true brain health long before then.