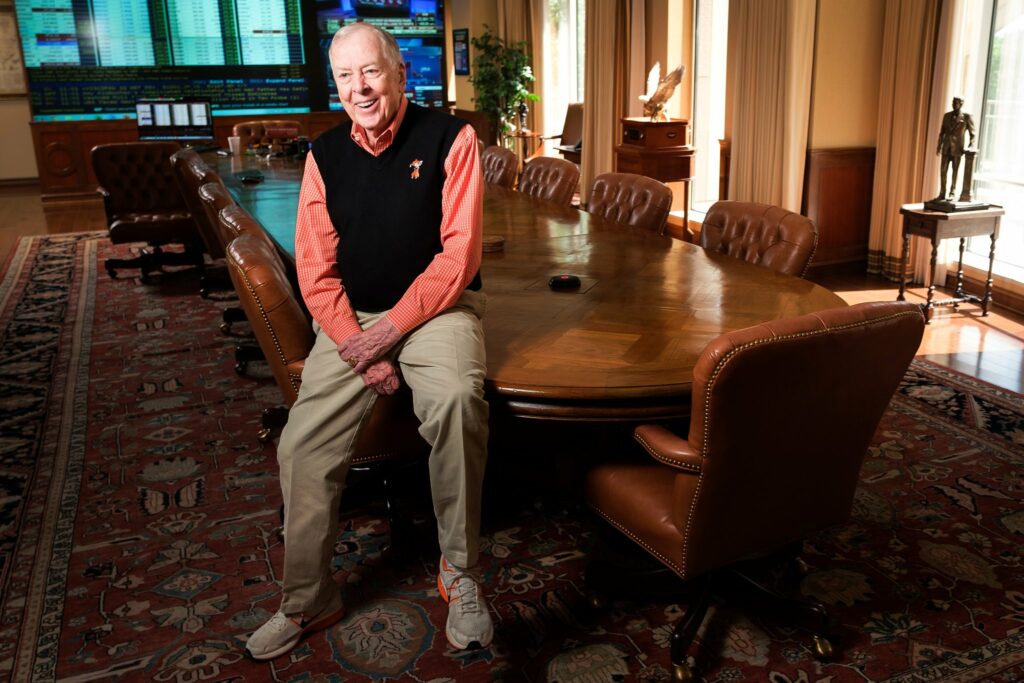 Imagine being able to buy a priceless piece of history – a piece of history that has been the site of heady conversations with presidents, athletes, journalists, titans of industry, and others, sitting around with me talking about deals, investments, and the future of our country. This piece of history – my conference room table – featured this past week in a Dallas Morning News story can be yours. For a price.
My cherished conference room table measures 24-foot-by-5-foot of inlaid cherry and walnut wood. In 2005, it became the center of my daily business life at BP Capital in Dallas. I've made hundreds of deals in my career. I'm ready to make another one. First, some background because there's a lot of history that goes with the table where my team and I have made and lost millions.
In recent years, after a few strokes and a "Texas-sized" fall, I've begun to slow down a bit. I've shuttered my energy investment firm, BP Capital, that was so successful for many years. We've downsized in personnel, moving to a pure "family office" structure. Now it's time to get serious about downsizing in space to better meet our needs. Sadly, this means the table I have cherished for nearly 15 years is on its way out. We simply don't have the space.
My office's main conference room that houses the table has been the site of our daily Investment Committee Meetings, during which we analyzed the energy markets in real time on a bank of six flat screens on the room's north wall.
At that table I've talked politics and strategies with the likes of President George W. Bush, U.S. Senator Lindsey Graham, and political operative Karl Rove; explored the aspirations of past and current sports luminaries such as Roger Staubach, Alex Rodriguez, Jerry Jones, a host of talented OSU athletes and coaches (and even a few from Norman, Oklahoma, such as Barry Switzer); pushed the envelope with business leaders Tony Robbins, Ted Turner, Carl Icahn, and Harold Hamm; shared life-lesson stories with entertainers Garth Brooks and Chuck Norris; and spent time explaining my views on all the above topics with many news industry reps, including Laura Ingraham, Bob Simon and Brian Sullivan. The creative forces behind the innovative Pickens Plan helped me define the mission and plot strategy here as well.
When I left Mesa Petroleum in 1996 at the age of 68, I opened doors on a new career initiative. I was out to prove an old man could make a good comeback. My staff occupied well less than a fourth of a floor. After a rough start, my small team achieved outstanding success in commodity and equity trading.
As I ventured into new areas (water, wind power, etc.), my office needs expanded and BP Capital soon occupied the entire second floor. I needed a conference room that could accommodate the growth. The Dallas interior designer I've used for years, Ann Kellogg Schooler, commissioned a work of art from local master furniture maker, Bryan Burton, patterned after an English 19th century table.
Nine months later, the massive handmade table arrived in four sections (even in that form it was a struggle to get it into the conference for installation). It quickly became an exciting place. A magnetic white board, comprised of 11 sections each measuring more than five feet tall and almost four feet wide, occupied the long south wall of the office. There was seldom any blank space on it.
Countless people have visited the offices in the years since I moved here, and because of all the memorabilia from my career on display throughout, many have characterized it as a museum of sorts. In fact, at some point, much of what's here will be donated to a museum.
But for now, the table I have long loved has to go. Come and take it and the history that goes with it. Let's make a deal. We put close to $75,000 into the table and 22 leather chairs that go with it. We're starting at $25,000.
So, I've decided to sell the magnificent table to the highest bidder, in hopes that more great plans can be hatched around it. I guarantee you it is both well broken in and in sterling condition, about as one-of-a-kind as there is in this life.